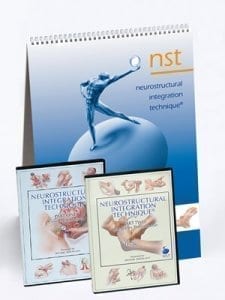 NST DVD Training firstly developed by Dr. Michael Nixon-Livy in 2008, has proven to be a 'godsend' not only for individuals unable to attend an NST workshop in person but for all NST practitioners wanting to accurately hone their NST and Bowen Therapy skills.
Two distinctly separate DVD Presentations covering the complete five-day Basic and four-day Advanced workshops respectively, comprise the complete NST DVD Training System.
Both double-volume DVD presentations are wonderfully supported by separate A3 sizedcompanion Flip Charts that contain all 300 of the illustrations presented on the DVDs in a free-flowing procedural format that adds a further quick-reference element of precision to the DVD presentations.
The first disc in the Basic DVD covers the complete Dynamic Body Balance, the essential engine and core of the NST system and a powerful spinal integration system within itself!
Disc two then moves onto the five interfacing categories comprised of Upper Extremity, Lower Extremity, Thoracic, Central Base and Cranium, representing in total an additional twelve highly effective individual procedures that interface with the core to add detail and specificity.
Total viewing time for the Basic DVD Training is 3 hours.
Then in the Advanced DVD the first disc covers two important elements of Refinement and Adaptation that both focus on the NST Dynamic Body Balance once again.
Refinement re-traces the Dynamic Body Balance point by point with deeper insights, points for accuracy and tips for avoiding pitfalls while the Adaptation section shows the practitioner just how easily the Dynamic Body Balance can be altered to add extra depth, specificity and flexibility to produce instantly better results!
Disc two of the Advanced DVD focuses on Potentization and contains fifteen new Advanced procedures that expand the NST system so that it can be applied to more chronic or difficult cases with excellent results.
Total viewing time for the Advanced DVD Training is over 5 hours.
Both the Basic and Advanced DVDs contain precise on-screen notes and numbering systems that further enhance and support the multitude of beautiful NST anatomicalillustrations that follow each and ever point demonstrated by Michael Nixon-Livy.
The NST DVD Training is by far the highest quality and most comprehensive Bowen Therapy training system available in the world today.
Professional practitioners and beginners alike have described the NST DVD Training System as the perfect educational tool!
Please note – DVD training does not provide for qualifications or continuing education hours.