Description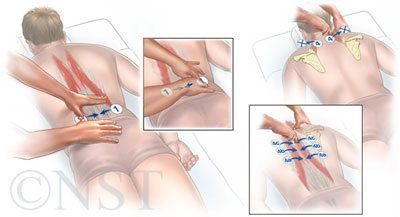 The DVD Training System strategically condenses the complete, highly acclaimed NST Osteospinal OS Seminar into a user-friendly DVD set and supporting Flip Chart, rendering it the ultimate method for learning and honing NST in the comfort and convenience of your own home or office.
This extremely professional and integrated education system enables the student to learn NST via an innovative double-layered approach.
This is achieved by firstly following the very detailed step by step double DVD set created by NST's founder Dr. Michael Nixon-Livy full of practical 'at the table' demonstrations with every 'Pri-move' performed, supported by a high quality 'on screen' full-colour NST illustration.
Then secondly via an attractive and practical 32 page A3 sized Flip Chart, used as an integrated quick-reference support, that importantly contains all of the illustrations in full colour, as presented throughout the NST DVD set, cleverly choreographed in a 'sequential format' that provides the reader with a proper sense of procedural flow.
Significantly, the NST DVD Training System represents a massive 75% saving on the tuition costs alone for attending the NST Osteospinal OS seminar.
Professional practitioners will be delighted by the flexible and free flowing approach that the DVD Training System ensures, creating a learning experience that is simple, thorough and enjoyable.
Inside DVD Part One
DVD disc one runs for a full hour and contains tuition for the all-important Core of NST work the famous Dynamic Body Balance designed to integrate Sacrum, Spinal Column and Cranium.
In the Core presentation, Dr. Michael Nixon-Livy provides us with a balanced and informative introduction to the history, development and basic theory of NST before taking us on a detailed step-by-step journey through the individual components of the Dynamic Body Balance in preparation for putting it all together at the finale.
The Dynamic Body Balance will be presented in both a point-by-point and fully integrated fashion.
DVD Part One summarises one and a half days of actual seminar content.
See sample intro video.
Inside DVD Part Two
DVD disc two runs for a full two hours and contains tuition for the Categories work showing just how easy it is to integrate procedures for the Upper Extremity, Lower Extremity, Thoracic area, Central Base and Cranium into the Dynamic Body Balance itself thereby building a fully integrated system.
The Categories presentation continues on with the same structured step-by-step and point-by-point teaching style culminating in a detailed demonstration integrating both Core and Categories into the NST Osteospinal operating system.
DVD Part Two summarises three and a half days of actual seminar content.
Testimonial
"I'm a Chiropractor from Michigan and have never done Bowen work. I have been using the NST DVD system for three months and find it has already transformed my work and results. So far I have only been using the NST Core balance but plan to look at the rest soon. TMJ and Pelvic look interesting. Excellent production and great concept for quickly learning at the office. Definitely recommend it!"
J.S., Michigan., USA